About the teacher - Shri. Hemant Kulkarni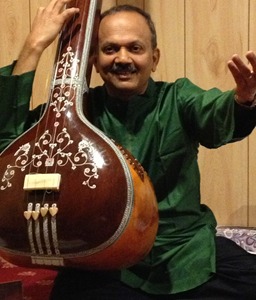 Shri. Hemant Kulkarni is trained in the Gwalior and Agra Gharana gayaki. He has been teaching vocal music and harmonium in the NJ area. He has been frequently invited to sing at the Marathi Vishwa Soor Bahar event in NJ. He and his students have a variety of classical and semi-classical music programs in the U.S. His students have won several awards at contests featuring Hindustani Classical and Semi-classical vocal & instrumental music in NJ, Baltimore, Atlanta etc.
Latest News
Success at Rungmunch worldwide contest!
Rishabh Ramakrishnan won the 1st prize in the Rungmunch junior category for Hindustani classical music.
The competition video links are on the Rungmuch Facebook page in case you missed it.
https://www.facebook.com/Rungmunch.org
Kudos to the finalists Gauri Niwargi (Adult Category – Hindustani Classical), Medha Anantuni (Junior Category – Hindustani Semi-Classical), Ishaan Tangirala (Antara Category – Bollywood).
SvaraYogita 2020 Online Hindustani Classical / Semi-Classical Competition results
SAMMAAN 2020 online contest – global talent search organized by Shankar Mahadevan Academy
Classical Vocal Winner – Ishaan Tangirala
Semi Classical Winner – Medha Anantuni
Svarasangam Facebook live concert
Organized by Indradhanush Foundation and Raykar Academy of Violin.
View the Facebook video here
Manas wins prize in Passion 2020 Global competition –  13 year old Manas Bhave won the 2nd prize in the Passion contest organized by Suranjan group of Thane, India and judged by some of the top artists in India
His performance in final round.
MV Swaradhara 2020 Music Competition Results–  Big Svara Sangam win in Marathi Vishwa Swaradhara 2020. 
SvaraYogita 2019 Music Competition Results–  Svara Sangam congratulates all participants and winners in the inaugural music competition in NJ (Nov 30th 2019)
AIMFA 2019 Music Competition Results–  Svara Sangam congratulates below winners in the AIMFA 2019 Music competition conducted in Baltimore (Nov 30th and Dec 1st 2019)
FILM SONG 1
1ST Ishaanbhi Mishra
2ND Prisha Inamdaar
FILM SONG 3
1ST Vijay Manchiraju
GHAZAL 2
1ST Vijay Manchiraju
NORTH INDIAN CLASSICAL VOCAL 2
1ST Shreya Pandey
PJIM Annual Competition 2019  –  Big Svara Sangam in PJIM Annual Competition 2019.
Arjun and Gauri won 1st prize in Classical – Pallavit Age Category. Manasi won the third prize in the same category
Manasi tied for first place in Bhajan category.
Juilee tied with Adit for the 1st prize in classical – Kali Mukulit Category.  Niranjan won the third prize for the same category.
Meri Awaz Suno (MAS) – Reportedly many of Svara Sangam students made it to the final round on May 12th 2019 and one of our star students Nandan Shastry is the big winner of the contest in adult category as well as he nagged 2 other prizes – ITV Gold award and MAS people's choice award ! Manasi Pujari & Niranjan Pujari won 2nd & 3rd prizes respectively in kids category! Congratulations to all winners and all the finalists from our school !
Rising Stars : Pandit Jasraj Institute (PJIM) has selected Jay and Gauri to sing at this event on Sat, June 15th at the Gentry clubhouse. Arjun Ramakrishnan & Anish Dharam from Svara Sangam will be accompanying Jay & Gauri on harmonium. Wishing all the best to all four of them.
Big Svara Sangam win at AIMFA's 35th Indian Music Competition 2018 in Columbia, MD! Winners List and Videos are in the Events Page.
Look at Winners!
Svara Sangam students win at Pt. Jasraj Institute of Music Contest AKA PJIM Contest in NJ.
Look at Winners!
Big Svara Sangam win at AIMFA's Indian Music Competition 2016 in Columbia, MD! Winners List and Videos are in the Events Page.
Look at Winners!
Srikar Ayyalasomayajula played harmonium and Nandan Shastry sang at the Madhyam Nava-gandharva festival !
Srikar Ayyalasomayajula and Ajita Nair played a harmonium solo and sang respectively at Raag-Rang's Kal Ke Kalakaar program!
Check out video clips!
Contact Us :
Like Us On :