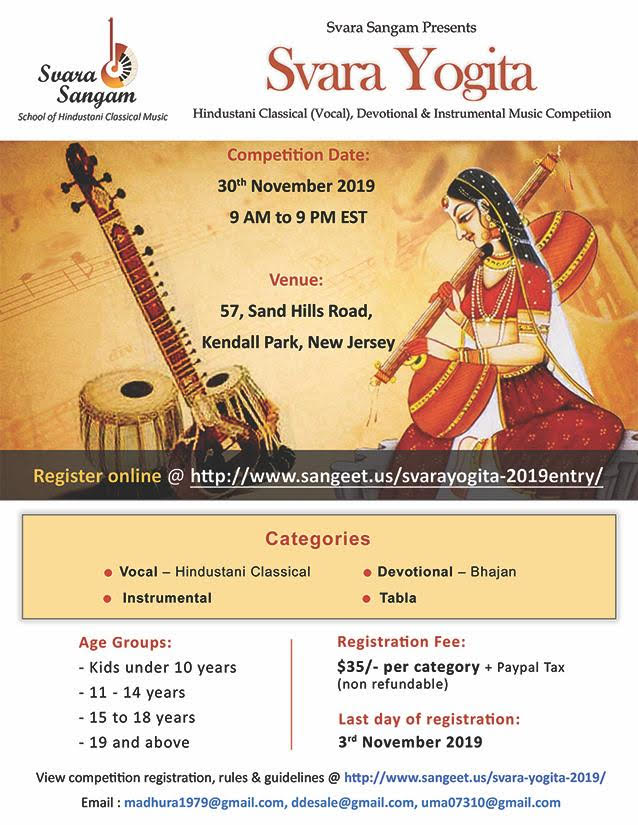 Music competition on Saturday, Nov 30th 2019 
Svara Sangam invites any resident of North America who is trained in Hindustani Classical or Devotional music to participate in this competition. Every participant needs prior registration and has to be physically present at the venue to participate.
Competition Age Categories for all Participants:
Kids under 10 years 

11 to 14 years

15 to 18 years 

19 and above
The competition will be held on November 30th 2019 between 9 am to 9 pm at
57 Sand Hill Road, Kendall Park New Jersey 08824.
General Rules for the Music Competition:
There are 3 categories for the competition:
Vocal – Hindustani classical
Devotional – Bhajan
Instrumental (Harmonium / Tabla)
Participants Fee per category: $35 (non refundable)
Participant must register before November 3rd 2019.Entries will be accepted on first come basis. In event of entries exceeding the  capacity, registration may close before the registration date
For each participant, the time limit is 8 minutes for classical and 5 minutes for devotional music.

 For instrumental, the time limit is 8 minutes for all age groups. 

Going over the limits will incur a 10 point penalty.
We encourage you to get your own accompaniment on the contest day. For participants who (at registration time) have indicated the need for Tabla and/or harmonium accompaniment, we will try to provide it at a reasonable charge (10$ per participant each).
Electronic tabla is not allowed, only Taanpura is allowed.
Judges' decisions will be absolutely final.
Every participant has to be present at the venue before 15 minutes of scheduled time. Final schedule will be updated on 15th November 2019.
Awards & Recognition :
The results of the competition will be declared on the same day after the conclusion of the competition. There will be three prizes in each category First, Second and Third.
Cash prizes will be awarded only if a category exceeds the number of participants than 10. Otherwise only certificates and trophies will be given. Besides, the 1st prize winner of each category will be invited to give a brief performance at Svara Sangam's school wide event in 2020. The date and time will be announced later.
For any questions contact via email : madhura1979@gmail.com, ddesale@gmail.com, or uma07310@gmail.com
Last day of registration – 3rd November 2019 – Online Registration Link